Chairman's New Year Message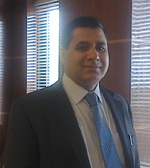 The year 2012 has flown but marked stars on UIG history. The year 2012 was full of various challenges, strong competition and burdened global economy markets. UIG Companies faced these challenges with passion and hard work out.
The mother Company of UIG the United Insurance Company of Pakistan Limited stepped ahead and its overall financial performance further improved by the Grace of Almighty Allah.
United Track System is well known in the Pakistan's Tracking market. UTS enhanced its image and trust through its quality products and services.
The purchase of Saudi Pak Insurance was very hard question for the market as it was in deficit at first quarter of 2012. After change in Management the clear results proved the professional approach, better planning and tireless efforts of the SPI team.
Apna Microfinance Bank was another addition in UIG. In 2012 Apna Bank established its identity as trusted micro financer in the local market and continuing enhancing its image with compatible products UIG aim is to expand horizons of Apna Micro Finance Bank.
Tawasul Dubai took start with low mood as new comer now Twasul attracting dubai business market UIG planned to make Tawasul as a strong entity of the group. Our Tawasul Risk Management Pakistan is also proving its expertise as risk manager by providing valuable professional advises.
The new year is begin and new challenges ahead. We as a professional have to feel more responsibility of coming days and heights needs to climb and new horizons to explore. The UIG Group of Companies are represented by an incredibly talented and committed team that I am honored to lead, so thank you all for your contributions to the success of our Group.
I wish you very happy moments in coming year filled with joy, peace and prosperity.
With very best wishes,
M. A. Shahid