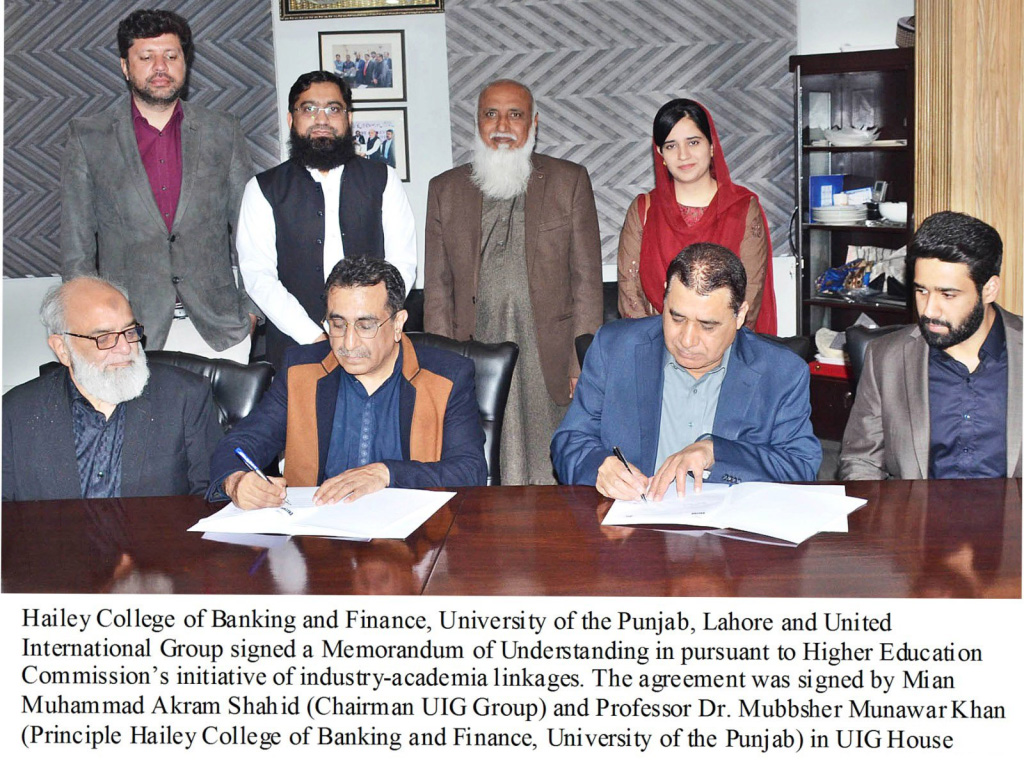 (February 24-2023) Chairman of the United International Group (UIG) Mian Shahid on Friday said developing strong industry-academia linkages could play an important role in economic development.
The majority of the business community is following a primitive model of doing business that lacks the required knowledge and research, he said.
Mian Shahid said this while signing an MOU with Principal Hailey College of Banking and Finance Dr. Mubbsher Munawar Khan in pursuit of the Higher Education Commission's initiative for industry-academia linkages.
He said that the idea of national economic development is incomplete without industry-academia linkage.
Mian Shahid said that about 3.2 million SMEs are currently operating in Pakistan. The exports of light engineering and high-tech industries are highly dependent on the contributions and performance of SMEs.
SMEs account for almost 90 percent of private sector enterprises. Their contribution is about 40 percent of the GDP. They are also the biggest source of employment generation in the country, he added.
He noted that there always has been a lack of enthusiasm and collaboration between the business community and academia. The training imparted to workers is often below global standards and fails to meet the future needs of the industry.
The curricula taught in our academic institutions are quite rigid, it is and not modified to suit the needs of different career paths and there is little focus on applied research.
This is the reason behind the lack of innovation and creativity which is keeping us behind as our many products do not meet international standards which undermines the image and credibility of Pakistani enterprises in the international markets.
He said that developing economies like Pakistan need to consider economic reforms and work on sustainable development policies. The reforms should help the economy generate more production with efficient use of resources and in value addition to exports.
ISLAMABAD: Pakistan Credit Rating Agency (PACRA) has improved the IFS Rating of the United Insurance Company of Pakistan (UIC) to AA+, said a press release.
Improved Insurer Financial Strength (IFS) rating is an independent opinion on the capacity of a company to meet policyholder and contract obligations.
Earlier, the company enjoyed a rating of AA with a stable outlook which has now been upgraded.
The UIC, a listed entity, was established in 1959, and is operating through an extensive network of more than 110 branches concentrated in the northern region of Pakistan.
The company is part of United International Group (UIG) led by the strategic vision of its Chairman Mian MA Shahid, an insurance veteran.
It may be mentioned that the company is a success story that is on the path of sustainable growth for decades. The total business volume of the UIC has seen speedy growth to jump to 6.75 billion rupees in a short span.
Highly professional and experienced management, best practices, innovation, customer-friendly approach and dedicated staff has pushed up the profile of UIC to become one of the top four insurance companies in Pakistan.
Group Country Manager of UIG Ghulam Murtaza said that our top management is highly skilled, motivated, and experienced and they keep service above everything which is key to the success of the company.
He said that UIG will continue to play its role in the economic development of Pakistan.
A business entity cannot thrive by ignoring client satisfaction. A positive experience is likely to drive a high level of customer satisfaction. Insurance companies should act in the best interest of clients which is a prerequisite for growth, he said.
Copyright Business Recorder, 2022